QDI's Energy Efficiency Programs
Program Research, Design, Implemention and Evalutation Support

QDI's Energy Efficiency Business
For 20 years clients have reached out to QDI for help in designing "actionable strategies" to successfully launch new products, enter new markets, or grow in existing markets.  This has always been the cornerstone of our business.
Clients have come to QDI looking for innovative strategies when their own organizations need help. Since the 1990s QDI has worked with utilities, the Electric Power Research Institute (EPRI), and the Environmental Protection Agency (EPA) in providing research and energy program support. In 2007, QDI engaged in the role of program development and support for the Pacific Gas and Electric Company and then with west coast utilities for the Business and Consumer Electronics Program.  In 2008 QDI helped the Pacific Gas and Electric Company develop the Sustainable Solutions Program for Large Commercial Buildings.   Since then, QDI has applied its research, strategy and channel program design skills to support energy efficiency programs.
Business and Consumer Electronics
In 2007, the Pacific Gas and Electric Company, a leader in the energy efficiency program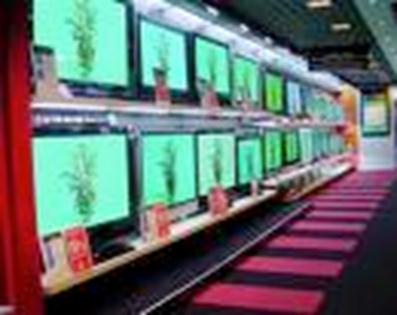 arena, approached QDI asking for help.  They needed to develop marketing strategies that would enable them to capture the energy savings available from "plug load devices" such as televisions, computers, etc.  The challenge in the consumer electronics area is that each item saves very little energy.  Thus, the economic incentive per unit that can be justified by energy savings is small relative to the purchase price of products.  In addition, to have any material impact on energy consumption in the market, a program would have to have a dramatic impact (20% plus market share impact) on industry sales.  All of these challenges posed problems for existing program design models.
This required a radically different program design than traditional down-stream incentives to consumers.  Based on its research with retailers, manufacturers and utilities, QDI designed a mid-stream program that was intended to change the behavior of the corporate buyers in major retailers (Best Buy, Sears, Costco, Walmart, Sam's Club, Kmart, etc.).  The program's logic was based on leveraging the retailers' collective market power with their global suppliers (Samsung, Visio, Sony, LG, etc.).  These retailers account for almost 80% of US TV sales and operate on small net profits and tight gross margins on large volume consumer electronics such as TVs.  The utility incentives were designed to change the retailer's behavior by motivating them to request and select for sale TVs, desktop computers and monitors that all met very high standards for energy efficiency.
While the strategic marketing assignment was in QDI's "sweet spot", the utility energy efficiency business was not.  The key to program success was for the Pacific Gas and Electric Company to educate QDI in the complexity and regulatory requirements that exist in the energy efficiency marketplace.   In addition, the BCE program was designed to achieve high penetration rates for energy efficient electronics measures, meet The Pacific Gas and Electric Company's Evaluation, Measurement and Verification (EM&V) requirements, and be cost efficient for the electronics category.  To achieve this goal, QDI worked closely with the Pacific Gas and Electric Company EM&V staff and developed tracking systems and methodologies to support the program results.
Working with the Pacific Gas and Electric Company and then the Northwest Energy Efficiency Alliance (NEEA), QDI earned its master's degree and arguably a PHD in efficiency program design and measurement.  These regulatory and evaluation issues play such a central role in efficiency program design and implementation that QDI modified its Market Share Management Model to address the unique "Incentive Capture (IC)" issue of the energy efficiency marketplace.   If utilities don't get credit for the incentives they pay, their programs become impractical from an economic standpoint. 
Market Share Management for Energy Efficiency Measures


The result of our research was a program strategy, including an aggressive go-to-market strategy and an innovative measurement strategy to support evaluation, which has had tremendous impact on the sales of efficient plug load devices and captures substantial energy savings for the Pacific Gas and Electric Company, while still providing very attractive program economics.
In implementing the program, QDI worked with the Pacific Gas and Electric Company to:
Recruit additional utilities (CA utilities and NEEA, then NV Energy)
Design the program operational elements:

Develop contracts for use with retailers
Develop measurement and tracking systems
Develop a model qualification system
Develop specification levels
Develop incentive levels
Develop signage that would work for the retailer, utility and ENERGY STAR
Develop communication plans
Develop tracking systems for evaluation

Implement the program

Recruit and sign contracts with retailers
Capture sales and base line data from retailers
Create allocations and forecasts with retailers
Qualify models / model matching
Identify and resolve data problems
Track program performance quantitatively and qualitatively
Report program performance internally and at ENERGY STAR conferences

Program results

The average new TV is 50% more efficient than a new TV in 2008
ENERGY STAR implemented three different, progressively higher, program specifications for TVs during the 3 year program. 
ENERGY STAR accelerated the implementation of the 5.0 specification by almost 9 months because penetration of the 4.0 specification was so great (approaching 80%).
Every major retailer participates in the program - hundreds of stores are being regularly detailed – more than 1,000 store associates have been trained. 
GWH of energy have been saved across the three utilities, with over 1,000,000 units having been incented. 
Data Analysis and Modeling
Since program implementation, QDI has helped in providing data and analytical tools to quantify the market impact.  The screen shots below show the flexibility, analytical power and communications power of the analysis workbook QDI created for the BCE program, which allows users to easily analyze data that started as 2+ million records in a database.  QDI develops these types of tools to help clients analyze and quantify their program impact.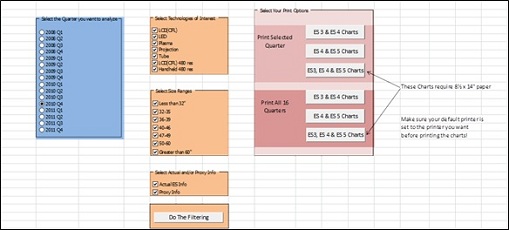 QDI's Cluster Analysis workbook for the BCE program takes TV sales data from all participating retailers and maps these sales relative to the BCE TV Program Efficiency specifications to show the impact of these specifications on sales.  This impact is shown by the concentration of TV sales at the energy efficiency performance levels set as program specifications.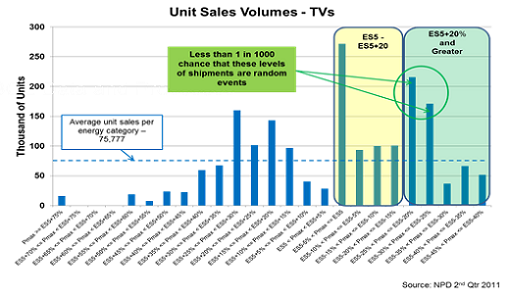 For more information contact:
Steve Bassill
847-566-2020 x229